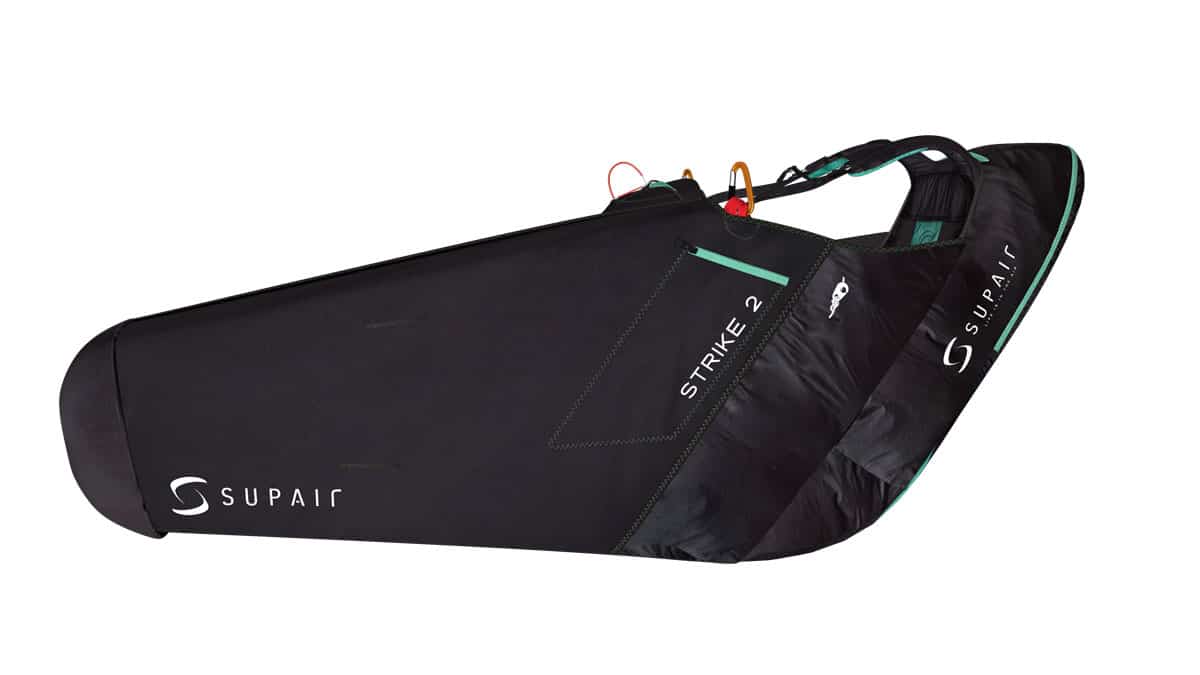 Strike 2 (Harness | Pod)
Save

Liquid error (snippets/product-badge line 32): Computation results in '-Infinity'

%
HIKE & FLY COMPETITION HARNESS
Lightness, precision and safety are the key words of the STRIKE 2. It is the worthy heir to our long experience of walking harnesses and flight, especially in competition. The STRIKE 2 is the result of our STRIKE X Alps 2019 and has the same main advantages as our STRIKE 1.
Compared to the STRIKE 1, it is more ergonomic, more comfortable and more flexible thanks to a inflatable protection (optional). It is intended for Hike & Fly competition and leisure pilots. It can also be the main harness for cross country pilots looking for lightness.
Easy installation and security with the closing of the harness on the two points of attachment of the glider. The harness opens completely and closes directly on the carabiners without any other loops and on only two points.
The new geometry allows a better transmission of the glider to the rider, fine and sensitive, adjustable by the distance of the belly band.
The comfort is complete with a removable comfort plate, and a geometry of the fasteners of the speedbag which allows a natural and effortless position of the legs.
As an option, a new inflatable protection is available to save weight (65g) and above all volume in the backpack. Ideal for Hike & Fly competition.
For mountain landings or in case of turbulence, the harness can be flown seated with legs bent, it remains manoeuvrable and comfortable.
On take-off, the run is easy ( harness light at legstraps ), the sitting and the installation in the speedbag are obvious.
In flight, the adjustments and geometry of the harness allow adaptations to the morphology and the positions of flight of each pilot.
The seat position with the back tilted back offers excellent support.
The STRIKE 2 has been designed to be flown with dyneema connections. This makes the material lighter and the legstraps fixed like the harness X-Alps. The harness should be put on like a harness. This is the "competition" mode.
STEERING
Hike & Fly competition
Position: sitting 3/4 lying
For regular and experienced pilots
SECURITY
Bumpair Strike 2
Ventral parachute pocket with rescue riser hooks on the shoulders
Auto stability legstraps
Closure of the harness with 2 points on the Carabiners
Grivel PLUME WIRE LOCK K3L carabiners
EQUIPMENT / COMFORT
Removable back comfort plate
Removable Carbon Mini-Seatplates 
Speedbag integrated
Footrest in the speedbag with carbon seatplates
Instrument holder on front pocket
Lightweight double-bar speed bar suitable for Speedbag
Hydro system (pre-equipped)
Zelden idler pulleys, diameter 20 mm
STORAGE
Back storage pocket 
Side pocket on Speedbag
Bag from Storage under the front of the seat (it is not recommended to use the subcutaneous bag to receive a weight greater than 3 kilos)
Pocket under the cockpit
SETTINGS
Shoulder length adjustment
Belly spread adjustment
Backrest tilt adjustment with additional lumbar support 
Length adjusmtent of the Speedbag
Speedbag tilt adjustment
MATERIALS
210D Ripstop nylon
Nylon 40d
Dyneema Strap
COMPOSITION
This harness comes with the following accessories:
Grivel PLUME WIRE LOCK K3L carabiners
Carbon Mini-seatplates 
Carbon feet seatplates for SM/L XL Speedbag 
Removable comfort plate
BUMP
2B LIGHT speed bar SPEEDBAG
Dyneema solo risers
Repair kit
User's Manual
 TECHNICAL DATA
| | S | M | L | XL |
| --- | --- | --- | --- | --- |
| Pilot height (cm) | 155/170 | 165 /185 | 175 /195 | 185-205 |
| Pilot weight (min - max) (kg) | 50 - 80 | 60 - 85 | 70 - 110 | 80-120 |
| Weight of the harness (High comfort mode) (g) | 2300 | 2400 | 2500 | 2545 |
| A - Back height (cm) | 58 | 65 | 68 | 72 |
| B - Height of the backrest tilt adjustment (cm) | 34,5 | 36,5 | 39 | 41 |
| C - Seat depth (cm) | 45 | 45 | 47 | 47 |
| D - Seat width (cm) | 33 | 33 | 35 | 35 |
| E - Height of attachment points (cm) | 40 | 40 | 42 | 44 |
| F - Distance between attachment points (cm) | 38-46 | 38-46 | 40-48 | 40-48 |
| G - Speedbag length (cm) | 91 | 96 | 103 | 108 |
| Certification | EN 1651: 1999 | EN 1651: 1999 | EN 1651: 1999 | EN 1651: 1999 |
| Maximum volume of parachute bag ( Litres) | 4,5 L | 4,5 L | 4,75 L | 4,75 L |