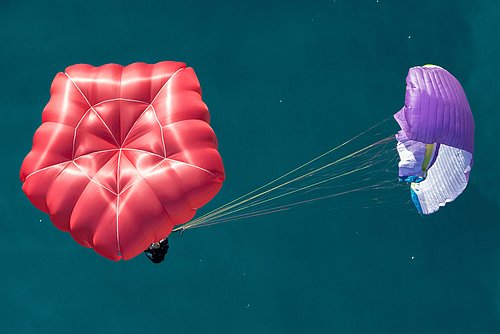 Pentagon Reserve
Save

Liquid error (snippets/product-badge line 32): Computation results in '-Infinity'

%
Safety through innovation: the PENTAGON parachute distinguishes itself through innovative design, combined with high-quality materials. After deployment, the PENTAGON impresses with rapid opening, immediate oscillation damping and a low sink rate. The result is a rescue system you can fully trust in any situation.

Quick Inflation
Due to the short lines, the time between deployment and the lines being under tension is very quick. The five corner vents assist a fast inflation and the low overall canopy height reduces the volume to be filled. As a result, the PENTAGON is fully open almost instantly, having lost very little height. This is critical when close to the ground, but it also reduces the risk of the parachute getting tangled in the paraglider's lines before opening.
Pendulum Absorption
High oscillation damping. Unlike a circle or a square, a five side object lacks point symmetry. In other words, in a pentagon, on the opposite side of a corner is an edge and opposite every edge is a corner. Regardless if the initial pendular impulse is towards a corner or an edge, the restoring force in a pentagon is clearly different. The pendular movement is disrupted and this dampens unwelcome oscillations, which in turn greatly reduces the risk of a hard impact.
Water Resistant
The PENTAGON is made entirely from Porcher Sport PN9 cloth. This cloth is used for BASE parachutes and is characterised by its durability and water resistance. This guarantees that even after a water landing, the PENTAGON remains fully functional. No other parachute cloth offers the same degree of water resistance, consistent low porosity and great strength.
Easy Repacking
All lines are all the same length and colour-coded. They are also equal distance from each other. Using the packing loops, the PENTAGON is very easy to pack and the risk of mistakes is minimal.
Technical data
| | | | |
| --- | --- | --- | --- |
|   | 100 | 120 | 145 |
| Flat area | 27 m² | 32 m² | 37 m² |
| Maximum payload | 100 kg | 120 kg | 145 kg |
| Descend speed according to EN12491 | 5.46 m/s | 5,2 m/s | 5.49 m/s |
| Recommended min. payload | 50kg | 60kg | 70kg |
| Weight | 1215 g | 1400 g | 1820 g |
| Weight including inner container | 1265 g | 1450 g | 1870 g |
| Volume | 3500 ccm | 4300 ccm | 5000 ccm |
| Total length of suspension lines | 5600 mm | 6200 mm | 6600 mm |
| Inspection number | EP 228.2018 | EP 207.2018 | EP 259.2019 |
| Suitable for HG use (with swivel +125g) | - | ✓ | ✓ |