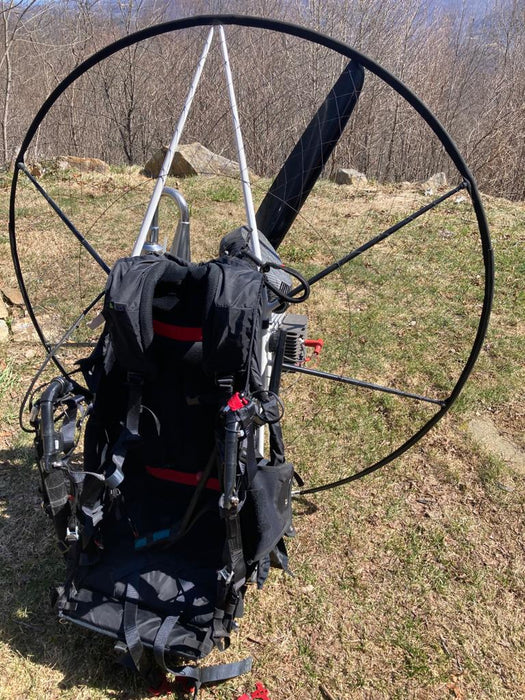 Paramotor - Minari 180 on a Miniplane frame (Location: Ojai, CA)
Save

Liquid error (snippets/product-badge line 32): Computation results in '-Infinity'

%
This item is available for pick up in Ojai, CA.
No Shipping option available
Minari makes some of the most reliable and powerful Paramotor engines available today.
Minari Paramotor engines are 2 stroke and 180cc, made to exacting standards and manufactured on CNC machines using modern technology and finished with special treatment. The cylinders are aluminum alloy Galsi 9 hardened, with the inside having a Nickel-Silicon plating and completely honed with diamond tools and plateau finishing. The pistons have diamond profiles and are completed with 2 rings chromed. The crankshafts are made of forged steel, completely finished. The exhaust system is well sectioned and supported.
The power of the new Minari engine on this frame is remarkable. The unit's dry weight is 52.5 lbs and it has a 12-liter tank for plenty of range. Now, pilots over 210 lbs, pilots at high altitudes, or Tandem Instructors have a great Paramotor that will suit their needs!
This motor starts easily, and idles nicely right away, ready to give its power! The Minari will require about 10 hours of "break-in" at 2.5% oil mix when it will run a bit rich and blubber a bit. After 10 hours, the mixture is leaned out to 2% (50:1 synthetic 2-stroke oil) and the motor smooths out. It is important to understand this and break this engine improperly. This way, the motor has the best chances of giving a long life of service. During the break-in, vary the throttle and do not use full power for more than a few seconds.
The ABM Low-Hangpoint Harness system handles the torque really well, it's a completely different feel than when this motor is mounted on other frames - very balanced, very light and climbs straight even at full throttle as a result of the ABM arms.
 The ABM arms are "bent" in the opposite direction than the Top 80 and Polini 130cc units, as the Minari is a belt-drive, and turns the prop in the opposite direction than the gearbox redrive.
| TECHNICAL DETAILS | 180cc |
| --- | --- |
| ENGINE: | Single Cylinder 2T |
| MOTOR CARTER: | Magnesium |
| CYLINDER: | Aluminum, 6 transfer with nickel silicon plated |
| PISTON: | 2 rings thickness 1,2mm steel chromed |
| COOLING: | By air/natural |
| DIAMETRE and STROKE: | 66x53 |
| CUBIC CAPACITY: | 181.23cc |
| COMPRESSION RATIO: | 11:1 |
| INTAKE: | Reed Valve inside crankcase to 4 petal |
| CARBURETTOR: | Walbro WB 37 C |
| MAX POWER: | 7500 rpm (26Cv) |
| IGNITION: | Electronic to variable advance |
| STARTING: | Manual |
| BELT DRIVE: | Belt POLIV - 14 rim of pulley |
| REDUCTION: | Pulley ratio 1/2.6 |
| ENGINE SUPPORT: | n°4 Anti-vibration |
| MOTOR FUEL: | Premium gasoline + semi-syntetic oil 2,5% |
| COMPLETE ENGINE WEIGHT WITH MUFFLER: | 14.05 Kg (Manual Starter) |
| COUNTER CLOCKWISE ROTATION: | The front of the drive |