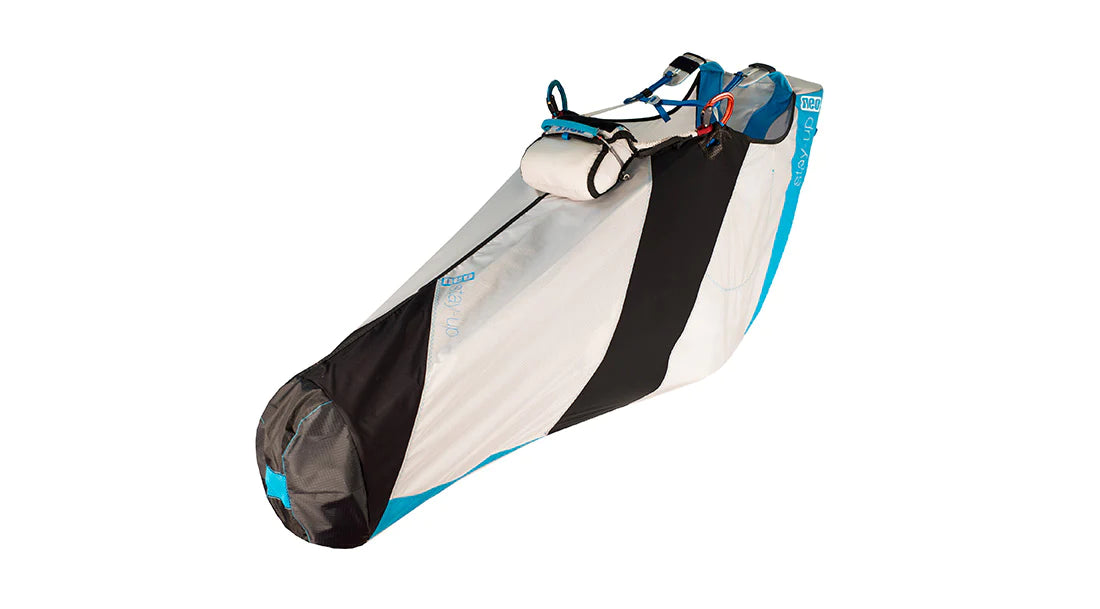 Fly NEO Stay Up
Save

Liquid error (snippets/product-badge line 32): Computation results in '-Infinity'

%
The StayUp is NEO's latest technical offering, designed for XC pilots.
It provides an outstanding balance of weight and stability, weighing in at just
1.45kg. The StayUp's unique pre-shaped seat allows the most relaxed position
of any light harness on the market. The StayUp can be flown with or without
the protection.
The StayUp has the same geometry as the NEO Suspender, which has become
known for its stability and precision in turns.
The leg straps are equipped with manual NEO buckles.
The harness is 100% made in France, with materials specially developed by NEO and our suppliers, including ripstop Dyneema which is hyper-resistant to abrasion and tear, and exclusive to NEO.
This ultralight pod harness includes the latest shock-absorbing technology: the
removable NEO Koroyd 2.0 protection.
Geometry and NEO bucket seat:
The main focus when it came to the design of the pod harness was made based on the geometry from the Suspender, NEO's cross country harness, as well as the seat.
The goal was to offer the pilot a very stable harness, that does not make the pilot tired, and with a very precise turn.
Just as the Suspender, the StayUp is a different harness from the rest and includes the new concept by NEO: the bucket seat, a crossbreed between a seatboard and a hammock harness.
In the StayUp, the bucket seat concept was achieved differently. While the seat in the Suspender is rigid, the bucket in the StayUp was achieved by a preshaped seat.
The result is similar, even if the StayUp is not rigid and it can be flown with or without the Koroyd protection.
The creation and adjustment of the geometry were focused in the following aspects:
The placement of the center of gravity, the basic aspect when it comes to the design of any harness for balance and stability.
The position of the center of gravity was achieved by placing darts in order to achieve a pre-shaped 3D seat.
Precise "classic" ABS adjustment for roll control
Perfect adjustment of the longitudinal balance for yaw control
The addition of an upper ABS for additional stability in active air.
Adjustable central straps (42-47cm) for precision and roll stability
Overall balance to find the right balance between stability, feedback, and handling.
In the air, you will feel:
Support on the outer thigh while maintaining the energy during the turns, allowing you to carve
Highly precise turns
The pre-shaped seat allows the center of gravity of the pilot to be in the right place
The pre-shaped seat lets you fly relaxed without neeeding to keep your body in tension, as in most ultralight pod harnesses
Comfort and pre-shaped seat:
NEO's bucket seat concept allows having unbeatable comfort in an untralight pod and feel like at home right away
The balance between the seat and the pod lets you have your upper torso and legs relaxed
The back plates in fiber glass allows having loose leg and shoulder straps, thus preventing fatigue in your back during long flights
Various and precise adjustments in the sides, depth, lumbar area, front and chest. A light pod harness should allow for a big range of adjustments and this kind of harness is like a second skin and must be able to adjust to all kinds of body shapes. Not all adjustments must be necessarily used
Once the StayUp is adjusted, the seat of the harness doesn't have any pressure points and allows you to fly for hours without any problem
Lightness
Specific materials were developed by the R&D NEO team together with European suppliers for the concept of the pre-shaped 3D seat:
Dyneema fabric: Together with its main supplier of specialized fabrics, NEO developed a Dyneema/Polyamide ripstop fabric that's highly resistant to abrasion, deformation, and traction while being ultralight. The molecules of the UHMPWE (ultra high molecular weight polyethylene), thus Dyneema, provide a balance between weight and abrasion that is superior to any other fiber. This ripstop is also windstopper and water wicking: because we must not forget that the first advantage of flying a pod harness is to stay warm
Ultralight Dyneema webbing
3D shaped seat: minimum weight / maximum support and comfort
SIZES
 Size
XS
 S
M
L
Pilot Size
cm
<165
160-170
165-185
>175
Pilot Weight
kg
<60
50-80
55-95
>70
Carabiner Height
cm
43.5
45
46.5
48
Ventral Strap Width
cm
42-47
42-47
42-47
42-47
Harness Weight
kg
-
-
1.450
Complete Harness Weight
kg
-
-
1.790
Load Test
EN 1651 - LTF91/09 : 100kg

EN 1651 - LTF91/09 : 100kg

EN 1651 - LTF91/09 : 100k

g

EN 1651 - LTF91/09 : 100k

g

NEO Koroyd 2.0 Cert.

LTF 91/09 - CE

LTF 91/09 - CE

LTF 91/09 - CE

LTF 91/09 - CE

Lite bag
I
70/90
70/90
70/90
70/90